There's nothing better than garden-fresh tomatoes! For a hint of that wonderful flavor, I make this soup all year long with tomatoes I've bottled from my garden. If you don't have your own tomatoes, store-bought will do — but get the best quality tomatoes you can find. Quality makes all the difference here!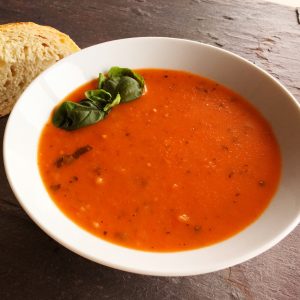 4 – 4 1/2 pounds tomatoes
1 c. chopped onion
1 clove garlic, minced
3 c. almond milk (divided)
1/4 c. chopped fresh basil
1 T. Italian seasoning
1/2 t. dried oregano
1/8 t. pepper
2 t. beef bouillon
4 T. olive oil
1/3 c. flour
salt, to taste
Optional: blanch the tomatoes. This step isn't strictly necessary, as we're not canning the soup.
Core the tomatoes and cut into halves or quarters. Put the tomatoes, along with the onion and garlic, in a large saucepan or Dutch oven and cook for 20 minutes. Blend smooth with an immersion blender, or process in batches in your blender. Return to your pan.
Stir in 2 cups of the almond milk, the basil, Italian seasoning, oregano, and pepper. Bring to a simmer and add in the beef bouillon. Allow to simmer for at least 15 minutes, 30 would allow the flavors to mingle better.
In a small saucepan, make a roux with the olive oil and flour, whisking until smooth, and allow it to cook for a few minutes to cook out the flour flavor. Slowly whisk in the remaining cup of almond milk. Simmer until thickened. Pour a ladle-full of the soup into your roux, whisking constantly. When it's smooth, add another ladle of soup. Then pour the roux mixture into the soup and allow to simmer until the soup thickens to your liking. Add salt, and any additional pepper, to taste.
*** Optional Serving Suggestions ***
If you're not trying to avoid dairy, you can stir in a cup of parmesan cheese just before serving.
Sprinkle crumbled bacon on top