A couple years ago, I was looking for something a bit different to feed my family on St. Patrick's Day. I discovered Dublin Coddle — and can I just say, it's amazing and really shouldn't be reserved for a single day in March. This can be made with or without the carrots, and is delicious either way. I do something a bit un-traditional with it, and add in root beer. Yes, you read that right. The root beer adds an extra layer of flavor and depth.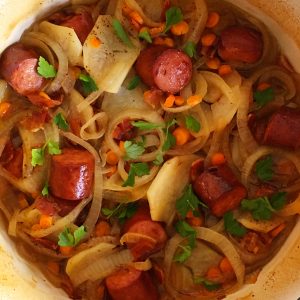 1/2 lb. sliced bacon, chopped
1 lb. smoked sausage, cut into 1 to 2 inch pieces
2-3 large russet potatoes, cut into 1/4 inch thick slices
2 medium-large yellow onions, sliced into thin rounds
3/4 c. sliced baby carrots, cut into 1/4inch coins (about 3 oz.)
freshly ground pepper
1 T. flour
2 c. broth or water
3/4 c. root beer
1/3 c. chopped fresh parsley
Preheat your oven to 300°F.
Put your bacon in a large dutch oven. Allow the fat to render, and the bacon to begin to crisp. Remove the bacon and set aside for a few minutes.
Place the sausage in the dutch oven and cook until the sausage starts to brown. Dust the flour over the sausage and toss to coat. Remove the sausage and set it aside.
Now you'll want to look inside that dutch oven and see how much grease is left. If it's well-greased, you're good. If not, give it a spray with non-stick cooking spray. Spread 1/3 of your potatoes on the bottom of the pot. You'll add 1/3 of the onions in a layer, then 1/3 of the carrots. Give it a sprinkle of pepper, then layer in 1/3 of the bacon, followed by 1/3 of the sausage. Repeat the layers twice. Pour the broth and the root beer over the top.
Put the lid on your dutch oven, and place it in the preheated oven. Bake for at least 2 hours. Remove the lid for the last 20 minutes. Don't worry, if you need to give it a little extra time, it won't hurt anything. When you're ready to eat, garnish your coddle with the parsley.
A few thoughts:
If you don't like the idea of adding root beer, replace it with extra broth or water.
Alternatively, you can cook your coddle on the stove. I've tried it, and it works fine.
If you  like apples with your sausage, try adding in a layer of sliced apple instead of carrots.