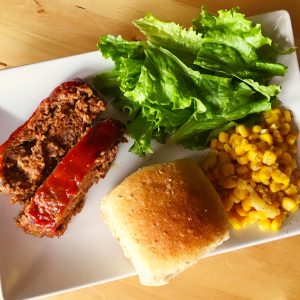 1 lb. ground beef
1/2 c. panko bread crumbs
1 egg, slightly beaten
1/2 c. ketchup (divided)
1 T. soy sauce, plus a bit more for glaze
1/2. t. salt
1/8 t. pepper
1/8 t. ground cayenne pepper
1/2 t. mustard powder
5/8 t. smoked paprika, divided
1 T. brown sugar
While you can certainly use a spoon to mix up your meatloaf, I prefer getting my hands dirty — I feel the ingredients are better incorporated that way.
In a medium-sized bowl, mix together your ground beef and panko bread crumbs. In a smaller bowl, stir together the egg, 1/4 c. of the ketchup, and the soy sauce. Add the salt, pepper, cayenne pepper, mustard, and 1/2 t. of the smoked paprika. Add the ketchup mixture to the ground beef and panko, and mix together just until everything is well incorporated.
Now you're going to make your loaf. You can use a loaf pan, or a meatloaf pan (that has a special insert to allow the fat to drain and makes it easier to lift your finished meatloaf from the pan), or you can make a free-form loaf on a lined baking sheet (this is generally my method of choice). As you form your loaf, be sure to press it together loosely — if you press it too tightly together, your finished meatloaf will be very dense.
In a small bowl, mix together the remianing 1/4 c. ketchup, a dash of soy sauce, 1/8 t. smoked paprika, and the brown sugar. Spread over the top of your loaf.
Bake at 350°F for 45 min. Allow to rest for 5 minutes before serving.