These individual pies are rich and creamy, with the perfect amount of zing from the key limes. Feel free to make the posset to be eaten on its own if you don't want pies — but be aware that it sets up best in single-serving amounts.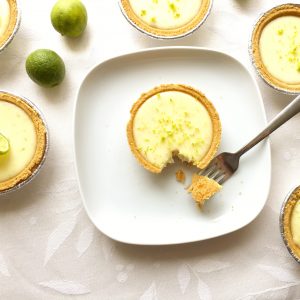 1 pt. heavy cream
2/3 c. sugar
5 T. key lime juice
2 T. key lime zest, optional
mini pie crusts or tart crusts (I used eleven .71 oz. pre-made graham cracker crusts  *see note below)
Optional toppings:
key lime zest, key lime slices, whipped cream
We're going to start by making the posset. This is extremely easy, but it does take time. In a small saucepan, combine the heavy cream with the sugar. Heat this over medium to medium-low heat, stirring occasionally to dissolve the sugar (and to keep the cream from burning, of course). Allow the cream and sugar to come to a boil. Continue boiling for 5 minutes, then remove it from the heat. Stir in your lime juice and, if you're using it, lime zest. Cover and allow to cool. You're looking for it to come down to near-room temperature.
Place your crusts on a baking sheet — this makes it easy to move them to the refrigerator.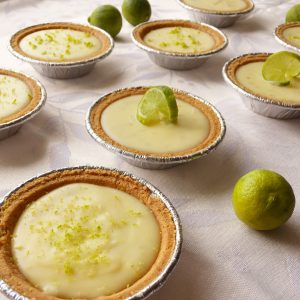 Once your posset has cooled, pour or scoop it into your crusts. Refrigerate your pies for several hours — I would suggest a minimum of 3 hours. Before serving add your toppings, if you choose to use any. These pies look best, and are easiest to eat, if they're removed from the tins prior to serving.
* Note: If you're using the graham cracker crusts, look on the back of the package. See where it suggests brushing the crust with a beaten egg white and baking at 375° for 5 minutes? I suggest you try doing that. We don't want your crusts to go soggy, do we?