---
*** Release date: August 15, 2017 ***
Jessamine's job at the Paris Exhibition should have been a routine robbery. Murdered guards, an empty display, and being captured by the Queen's Agents weren't part of the plan.
To gain her freedom and escape the Agents' torture chamber, Jessamine must obey the royal command to root out a band of traitors. Posing as the niece of a minor lord, Jessamine and her business partner set out to learn which of Britain's lords are trying to overthrow the monarchy.
One of the names at the top of their list is a man Jessamine has known most of her life. A man she left behind when she escaped to London. The only man she's allowed the liberty of kissing her.
Watched by the Agents, Jessamine must discover the truths hidden within the many pockets of deception.
---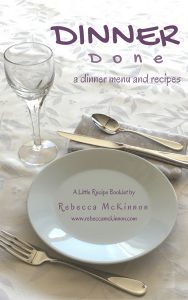 This is a *free* download. Just click on the title or picture to access your free PDF file.
Dinner Done combines 4 of the most-loved recipes from this website into a convenient booklet:
Creamy Tomato Basil Soup, Easy Meatloaf, Roasted Brussels Sprouts with Tahini Lime Dressing, and Key Lime Posset Pies.
---
The Refuge Trilogy
Friends or family?
Desire or responsibility?
She thought she'd made her choice.
Now, finding herself trapped in a world splintered from her own, Narissa is determined to return home. Learning that the means of crossing between realities has been lost, she vows to find the elusive gateway.
Narissa doesn't plan to make friends. She certainly doesn't intend to fall in love.
Faced with the decision, will she choose the life she wants, or return to the world where she belongs?
She spent the summer in The Refuge.
Now, she's come home.
Within days she realizes:
She wants back in.
Only two things stand in her way. The sister Narissa has protected for years can't decide if she wants to go with her. And, of course, Narissa has no idea how to return to the splinter reality.
Complicating matters, Narissa discovers she can no longer avoid the problems her unexpected trip allowed her to escape.
Through it all, there's one thing that keeps her going. She's not the only person to have left The Refuge.
She's lived in two worlds.
Both hold people she loves.
The choice between them was easier than she'd hoped.
Now that they're back in The Refuge, Narissa is faced with honoring the promise to keep her marriage to Daman a secret. As much as she hates the idea, it's important to Daman. But even though she understands why it means so much to him, she has doubts. Could Daman have another reason for keeping their relationship quiet?
While Daman starts to build the life he wants, Narissa finds her own life spinning out of her control. The council gives her unexpected assignments. Friendships take turns she doesn't see coming. And Narissa can't help thinking she made a mistake in returning to The Refuge.