I love fresh cherries! Honestly, my favorite way to eat them is raw, right off the stem — but this cobbler is a close second!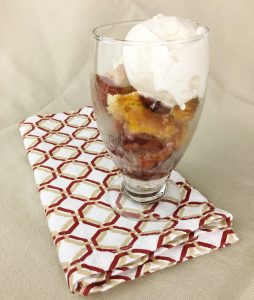 3 c. fresh cherry halves (minus the stones, of course)
1/2 t. cardamom
1/4 t. ginger
1/8 t. nutmeg
1/4 c. sugar
1 c. simple syrup *
2 c. flour
1 T. baking powder
1 1/2 T. sugar
1/2 t. salt
1/2 c. butter
1 egg
3/4 c. milk
sprinkle of cardamom
vanilla ice cream
Turn the oven to 425°F. Place the cherry halves in a 9″x7″ pan. In a small bowl, combine the cardamom, ginger, nutmeg, and 1/4 c. sugar. Sprinkle evenly over the cherries. Pour the simple syrup over the top and place the pan in the heating oven to warm the cherries through.
In a larger bowl, sift together the flour, baking powder, 1 1/2 T. sugar, and salt. Cut in the butter — you're looking for a crumbled texture. In a separate bowl, or a large measuring cup, beat together the egg and the milk. Add the wet ingredients to the dry, and stir to combine.
Remove the cherries from the oven and drop the dough in mounds over the cherries. Sprinkle the top of the mounts with cardamom.
Bake for 30 minutes.
Dish the cobbler into serving bowls while it's still hot and top with ice cream.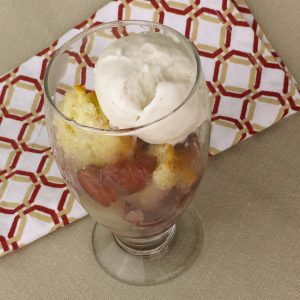 * Simple syrup is made by bringing equal amounts of water and sugar to a boil to allow the sugar to dissolve. Generally, you'd let the syrup cool — either cool or warm will work for this recipe, since we're just heating it back up.